This print was engraved from a painting modeled on Le Brun's The Family of Darius before Alexander the Great. Hogarth's original was executed for a Mr. Duncombe of Duncombe's Park, who paid the artist £200 for it, the highest price paid a British painter for a single portrait up to this time.
The work is at once a full-length portrait, a dramatic history painting and a Le Brun-like study of the passion of fear. It portrays Hogarth's friend David Garrick playing the Shakespearean part by which he first became famous and helped to popularize and celebrate British drama. It does not appear to depict an actor (there is no hint that this action takes place on stage) but rather an historical personage of great importance, Richard III, properly costumed and surrounded by the elaborate drapery and symbols (armor, crown, sword) of his position which were traditional in such portraits. Because it catches Richard in a moment of crisis as he has awakened from a nightmare (V, iii), it is primarily a study of the operations of fear as it manifests itself in the face, posture and actions of an individual. At Richard's feet lies a note bearing the words from the play, "Jockey of Norfolk, be not so bold/For Dicken thy Master is bought & Sold."
[Excerpt from Engravings by Hogarth, edited by Sean Shesgreen, (Dover 1973).]

Mr. Garrick in the character of
Richard the 3d
Original Copperplate Engraving and Etching by William Hogarth & C. Grignion from:
The Works of William Hogarth from the Original Plates Restored by James Heath, Esq., R.A.; With the Addition of Many Subjects Not Before Collected: To Which is Prefixed, a Biographical Essay on the Genius and Productions of Hogarth, and Explanations on the Subjects of the Plates by John Nichols, Esq., F.S.A.
London: Printed for Baldwin, Cradock & Joy, Paternoster Row
by Nichols and Son, Parliament Street
— 1822 —
Sheet size: approx. 25 1/4 inches x 19 1/4 inches
Plate size: approx. 19 13/16 x 15 1/8 inches

Condition: Excellent, no flaws to report.

[Interesting side note: this set comes from the collection of Joseph Cunard (1799-1865), brother of Samuel Cunard — founder of the White Star Line.]
$300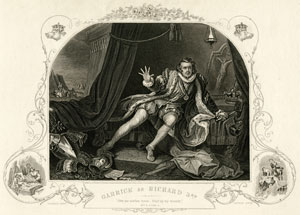 (click image to enlarge)
Garrick as Richard 3rd

The Complete Works of William Hogarth
(Mackenzie, London, 1870)

Sheet size: 8 3/4 x 12 1/4 inches
engraving on steel

Condition: Excellent—better than appears in scan

(note: entire sheet is too large to scan)
$75