The Bench
This print is another of Hogarth's manifestoes about his art. Refining on his work in "Character Caricaturas," he attempts to define more closely and illustrate further the terms "character," "caracatura," and "outrè." He illustrates the term "character" by representing four pompous judges listening to a case in the Court of Common Pleas. Callously inattentive to the case before them, these undignified, pompous men, buried in their robes and wigs, slumber or read. That they are characters is suggested by the fact that their faces and posture are comic and revealing without being sharply exaggerated, and by the fact that the men have been identified as historical figures. The man with the quill is Chief Justice Sir John Willes; the one to the right with the long nose, Henry Bathurst; the third is William Noel; in the background is Sir Edward Clive.
The line of heads above the judges is a unfinished addition to the print; Hogarth worked on it the day before his death but did not complete it. The faces here seem intended as examples of "caracaturas" and "outrè"; the heads are of the lame man in Raphael's Sacrifice at Lystra, the Apostles from Leonardo's Last Supper and the long-nosed judge portrayed below. Early states depict the royal arms instead of the row of heads.
[Excerpt from Engravings by Hogarth, edited by Sean Shesgreen (Dover, 1973).]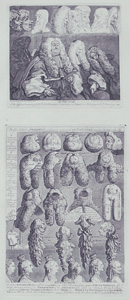 (click image to enlarge)
The Bench
and
Five Orders of Perriwigs

Two engravings/etchings on one full folio sheet

Original Copperplate Engravings/Etchings from:
The Works of William Hogarth from the Original Plates Restored by James Heath, Esq., R.A.; With the Addition of Many Subjects Not Before Collected: To Which is Prefixed, a Biographical Essay on the Genius and Productions of Hogarth, and Explanations on the Subjects of the Plates by John Nichols, Esq., F.S.A.
London. Printed for Baldwin, Cradock & Joy, Paternoster Row
by Nichols and Son, Parliament Street
1822
Sheet size: approximately 25¼ x 19¼ inches, thick woven paper.
(approx. 64cm x 48cm)

Condition: Excellent. Minor plate rub/soiling in margins.

[Interesting side note: this print comes from the collection of Joseph Cunard (1799-1865), brother of Samuel Cunard — founder of the White Star Line.]
$525

---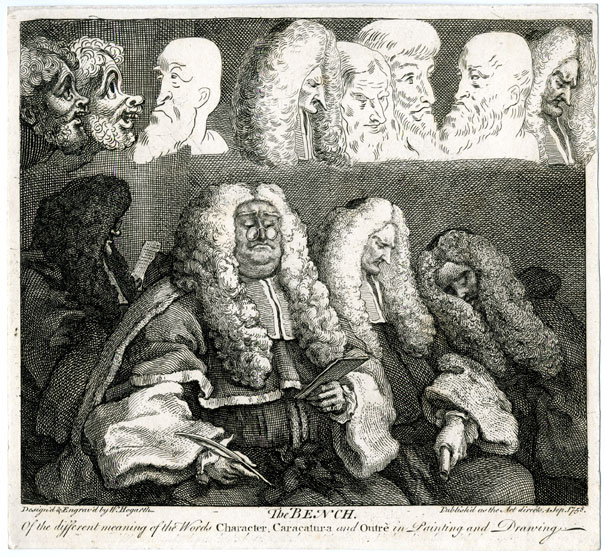 (click image to enlarge)
"The Bench"
(18th century - believed to be from
"The Moral and Comic Works of the Late Celebrated William Hogarth"
published in 1797 by Laurie and Whittle, Fleet Street, London)
Sheet size: approx. 7.5 inches high by 8.25 inches wide, woven paper
Condition: Excellent; trimmed close on right side
$200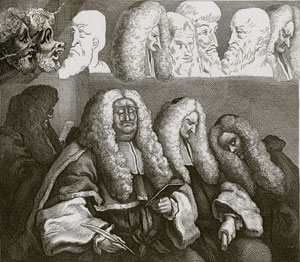 (click image to enlarge)
The Bench

"The Complete Works of William Hogarth"
(Mackenzie, London, 1870)

Sheet size: 8 3/4 x 12 1/4 inches
engraving on steel

Condition: Poor—poorly "repaired" major tear in upper left corner of image; tape is adhered to front of print.

(note: entire sheet is too large to scan)