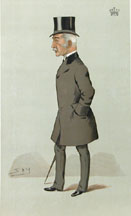 The Earl of Camperdown
[Robert Adam Philips Haldane Duncan]
March 14, 1895
"The Earl of Camperdown"

$28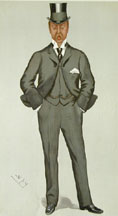 Mr. Victor Cavendish
May 9, 1895
"heir presumptive to a Dukedom"

$30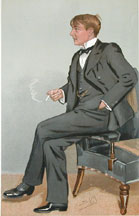 Mr. Alfred Charles Harmsworth
May 16, 1895
"He is a Conservative Cadidate for Portsmouth"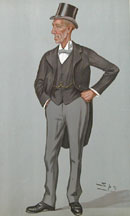 The Right Hon.
James Lowther
March 1, 1900
["Thanet"
title trimmed]

$32
(trimmed)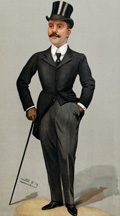 The Honourable Sidney Robert Greville, C.B.
May 31, 1900
"A Private Secretary"

$50
[mounted/matted]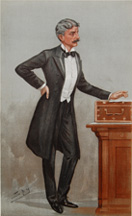 Mr. George Wyndham. M.P.
Sept. 20, 1900
"Dover and War"

$40
[mounted/matted]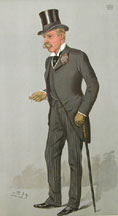 The Earl of Clarendon
[Edward Hyde Villiers]
Jan. 10, 1901
"The Lord Chamberlain"

$45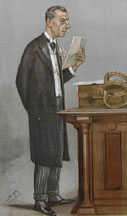 Mr. Joseph Chamberlain
March 7, 1901
"The Colonies"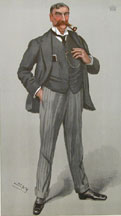 Lord Raglan
[Fitzroy James Henry Somerset]
Feb. 14, 1901
"Under-Secretary for War"

$40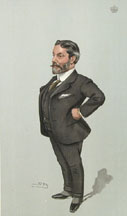 The Marquis of Northampton
[William George Spencer Scott Compton]
Feb. 11, 1904
"the lordship of Compton"

$40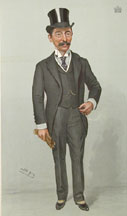 The Lord Northcote
March 3, 1904
"The Australian Commonwealth"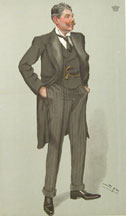 The Earl of Darnley
April 7, 1904
"Ivo"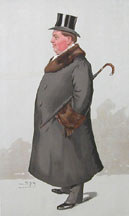 The Earl of Donoughmore
[Richard Walter John Hely-Hutchinson]
Feb. 9, 1905
"A most discreet under secretary, drawn for the first time"

$32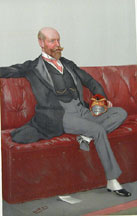 The Earl of Onslow
[William Hillier]
April 20, 1905
"Chairman of Committees in the Lords"

$42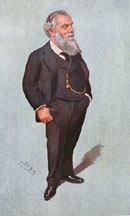 The Earl of Elgin
April 27, 1905
"He has decided where Churches have disagreed"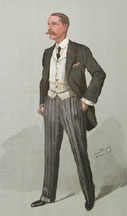 Major William Eden Evans Gordon
May 11, 1905
"The Alien Immigrant"

$50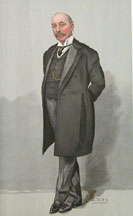 Sir Walter Roper Lawrence
June 15, 1905
"The Prince's cicerone"
$40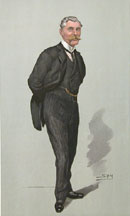 Sir John Dickson-Poynder
June 22, 1905
"To abandon Conservative ideals is to destroy the Empire"

$50