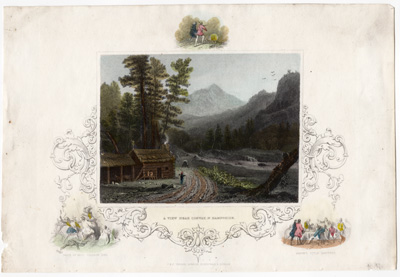 A View Near Conway, N. Hampshire
Vignettes bottom left and right: "Death of Major Waldron, 1689" and "Mason's Title Disputed"
[Note: this print is not from the same source as the others on this web page. Most likely from History of the United States from the Earliest Time to the Present Time.]
Circa 1850, original hand-colored engraving
Sheet size is about 10.75 x 7.25 inches
Please see enlargement for condition. Some grubbiness in margins. Minor edge/corner wear and short tears at edges.

$60