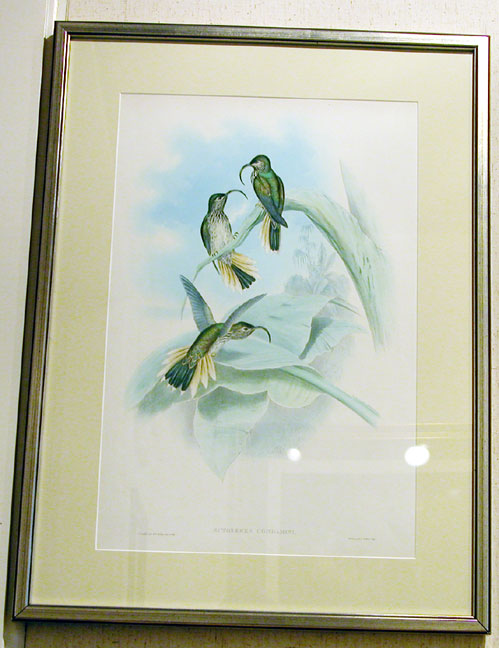 GOULD, John (1804-1881)

Eutoxeres Condamini

[London: by the Author, 1849-1861]. Hand-coloured lithograph by Hullmandel & Walton, printed by the Mintern brothers. With later professional hand colouring. Heightened with iridescence. Printed on wove paper. In excellent condition. Sheet size: 21 3/4 x 14 1/4 inches.

A beautiful image from 'A Monograph of the Trochilidae or Family of Humming-Birds', John Gould's 'masterpiece, [which]... must ever remain a feast of beauty and a source of wonder... an incomparable catalogue and compendium of beauty' ('Fine Bird Books').

'There is no one appreciative of the beauties of nature who will not recall... with delight the time when a live humming-bird first met his gaze. The suddenness of the apparition, even when expected, and its brief duration, are alone enough to fix the fluttering vision on the mind's eye.... The beautiful nests of humming-birds... will be found on examination to be very solidly and tenaciously built, though the materials are generally of the slightest - cotton-wool or some vegetable down and spider's webs' (Alfred Newton in 'The Encyclopedia Britannica 1911, vol. 13, p.887). The Hummingbird family includes members that are the smallest birds in the world. The largest measures no more than 8 1/2 inches and the smallest 2 3/8 inches in length. They are confined to the American continent and its islands, but are wide ranging within this limitation, with over 400 different species covering an area from the fuchias of Tierra del Fuego in the south to the althaea bushes of Toronto gardens in the north.

The present image is from the work of which Gould himself was most proud. Hummingbirds remained a fascination for him throughout his professional life, as evidenced by his collection of 1500 mounted specimens, which were exhibited in the Royal Zoological Gardens in Regent's Park, London, in 1851 as part of the festivities surrounding the Great Exhibition. The exhibit proved a great success, with Queen Victoria and Prince Albert numbering among the 75,000 visitors.

Cf. Anker 177; cf. Fine Bird Books (1990), p.101; cf. Nissen IVB 380; cf. Sauer 16 & 29; cf. Wood p. 365; cf. Zimmer p. 258.