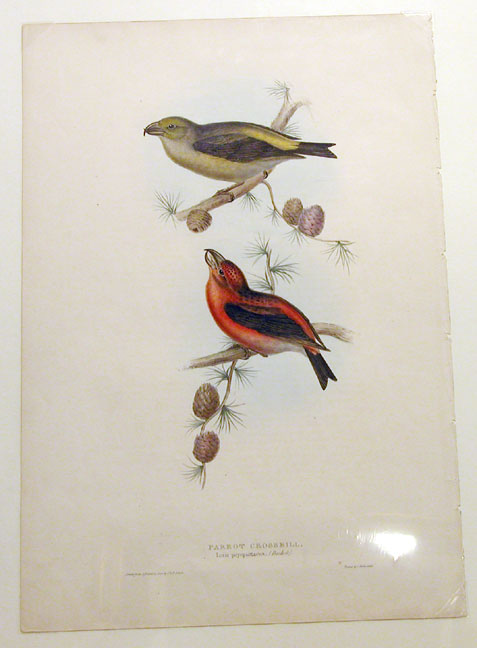 GOULD, John (1804-1881)

Parrot Crossbill. Loxia pityopsittacus.

London: [by the Author, 1832-1837]. Lithograph, coloured by hand, by E. Lear, printed by C. Hullmandel. Very good condition apart from some minor foxing. Sheet size: 21 5/8 x 14 3/8 inches. (Please excuse glare from shrink-wrapping)

A beautiful image from John Gould's "The Birds of Europe": a work which, according to Hyman, "included some of the most remarkable bird drawings ever made."

This plate is from the second of John Gould's great ornithological portfolios. Gould undertook this work not only hoping to build on the success of his first work (on the birds of the Himalaya mountains), but also in an effort to redress the imbalance between the study of local and foreign ornithology. It was his opinion that too much attention had focused on the exotic, whilst the beauty of the more local species was ignored. He wrote in the preface to the work from which this image comes: 'It has been frequently remarked that the productions of distant countries have received a much larger share of attention than those objects by which we are more immediately surrounded; and it is certainly true, that while numerous and costly illustrations have made us acquainted with the Ornithology of most other parts of the world, the Birds of Europe, in which we are, or ought to be, more interested, have not received that degree of attention which they naturally demand. The present work has been undertaken to supply that deficiency."

The images in this work are the first to be published by Gould that show the liveliness of treatment that was to become such a feature of later works. This break from the traditional methods of bird depiction can be largely attributed to the influence of and contributions from Edward Lear: "They are certainly among the most remarkable bird drawings ever made, [for] it is evident that Lear endowed them with some measure of his own whimsy and intelligence, his energetic curiosity, his self-consious clumsiness and his unselfconscious charm." (Hyman)

Cf. Anker 169; cf.Balis 101; cf.Fine Bird Books (1990), p. 102; cf.Nissen IVB 371; cf.Sauer 2; cf.Zimmer p. 251.