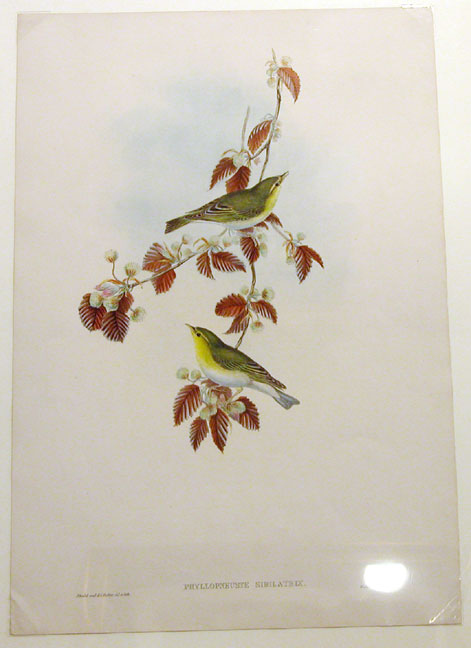 GOULD, John (1804-1881)

Phyllopneuste Sibilatrix

[London: by the Author, 1862 - 1873]. Hand-coloured lithograph by J.Wolf and H.C.Richter, printed by Walter. Wove paper. Sheet size: 14 1/8 x 21 1/4 inches. (Please excuse glare from shrink-wrap.)

A beautiful image from John Gould's 'The Birds of Great Britain': 'A magnificent work with life-like portraits of birds of the British Isles'. (Wood)

This plate, from what Sacheverell Sitwell called 'The most popular of all his works' ('Fine Bird Books'), shows a new liveliness of treatment that is not present in Gould's earlier works. This is thanks to suggestions made by Joseph Wolf, who drew 57 of the plates and accompanied Gould on an ornithological tour of Scandinavia in 1856.

Gould's illustrations were all painstakingly coloured by hand, as he states in his Preface: "Many of the public are quite unaware how the colouring of these large plates is accomplished; and not a few believe that they are produced by some mechanical process or by chromo-lithography. This, however, is not the case; every sky with its varied tints and every feather of each bird were coloured by hand.

Cf.Fine Bird Books (1990), p. 102; cf. Nissen IVB 372; cf. Sauer 23; cf. Wood p. 365; cf. Zimmer p. 261.