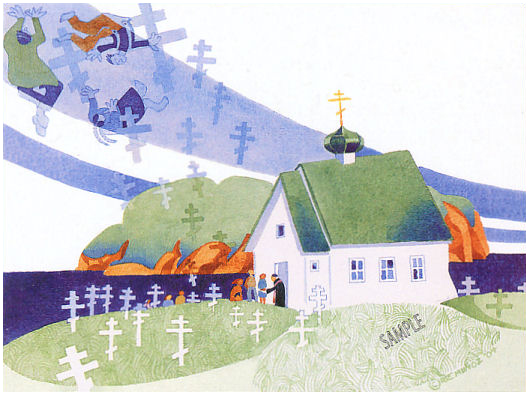 Church at Akutan (2006)
edition size: 600
Image Size: 13 x 9 5/8 inches
"A few years ago a friend and I traveled on the MV Tustumena down the Aleutian Chain. One of the many stops along the chain was at Akutan where I sketched this Russian Church and burial grounds with its many Russian crosses. I keep some of my favorite original paintings as I hate to let them all go. This is one I'll hang on to"

$145
(plus shipping/insurance)
Click here to return to Rie Munoz prints
Genuine signed, limited edition silkscreens and full color prints from celebrated Alaskan artist Rie Munoz.
Darvill's Rare Prints has an extensive collection of both recent and earlier hard-to-find editions.
If you do not see a print you are looking for, please email us, as we may be able to find it for you. We have many contacts with other official dealers of the art of Rie Muñoz.