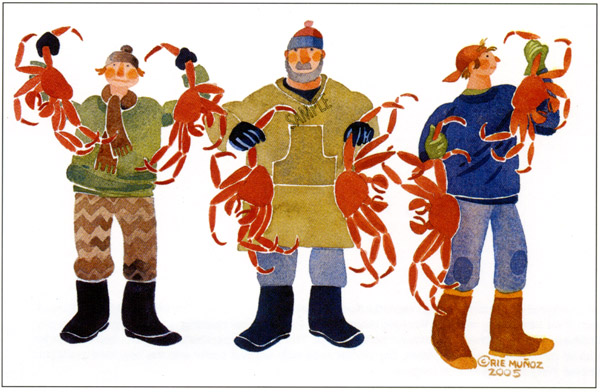 Commercial King Crabbers (2006)
edition size: 550
Image Size: 11¾ x 7¼ inches
This scene took place in mid January when it's icy cold in SE Alaska. It is the time when the King Crab 'shallow up' from 500-1200 ft of water to 100'. They can also be seen 'balling up' in even shallower water. Hundreds of King Crab grab on to each other in a huge writhing ball which moves slowly across the ocean floor.
If you have the fortune of getting one, you'll want to hold them the right way, otherwise, OUCH!

Sorry, we sold our last one.
If you would like us to try to find one for you, please contact us.

Click here to return to Rie Munoz prints
Genuine signed, limited edition silkscreens and full color prints from celebrated Alaskan artist Rie Munoz.
Darvill's Rare Prints has an extensive collection of both recent and earlier hard-to-find editions.
If you do not see a print you are looking for, please email us, as we may be able to find it for you. We have many contacts with other official dealers of the art of Rie Muñoz.