"The fame of Muirhead Bone is more international than that of any British etcher except Whistler." *
Sir David Muirhead Bone: One of eight children, Sir David Muirhead Bone was born and raised in a Glasgow suburb. First trained in the profession of architect, Bone's early aptitude for art quickly rose to the fore. Although he attended some classes at the Glasgow School of Art, Muirhead Bone was almost entirely self-taught. His first etchings
and drypoints date from 1898 and were mostly experimental in nature. Within just two years, however, he had established himself as a premier British etcher.
One writer relates, "Many of Bone's finest works belong to his first ten years ... In the art of drypoint, Bone did not, from his first attempts, take long to achieve a mastery which it was well-nigh impossible to improve upon, certainly not as a technical process." *
* Kenneth M. Guichard, British Etchers: 1850-1940, London, Robin Garton Books, 1981, pp. 27 & 28.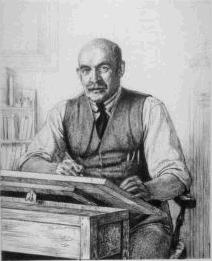 SIR DAVID MUIRHEAD BONE
(Glasgow, 1876 — Oxford, 1953)