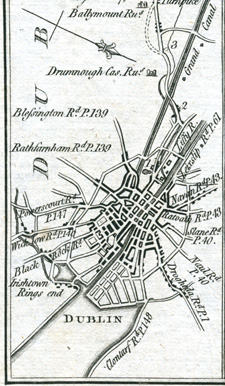 (Detail from one of the maps)
These remarkable and exceptionally rare maps are from the first edition of the first book of road maps of Ireland published in 1778.
Taylor and Skinner had originally been surveyors in Aberdeen, and came to work in Ireland in the late 1770s, before eventually heading west to settle in America. They published a similar work to this one Maps of the Roads of Scotland and North Britain in 1776.
Financing the Atlas
Although assisted financially by the 'Commissioners for the Forfeited Estates,' (Scotland) and by subscriptions (mainly from the landed gentry whose names and properties were shown along many of the roads) they nonetheless reported that nearly 1500 copies of their Survey were unsold in 1778, and they therefore had debts still to repay. Probably one reason for their peripathetic activities.

These maps of The Roads of Ireland were commissioned by the House of Commons in Ireland, and contain 289 pages of maps. The index for these detailed maps shows distances in English and Irish miles. The maps themselves show copious topographical details, such as forests, hills, farm land, mills, houses, churches, estates etc. The large houses also give the owners names. There is a subscription and name index at the back detailing every name recorded on the maps. This edition also contains a new large-scale 'accurate' map of Ireland.
Ground-breaking Publication
Taylor and Skinner's road maps of Ireland (and their books for Scotland, England and the USA) were a phenomenal achievement in their day, although not always a commercial success at the time, as in Scotland, they remain an essential inclusion in any serious collection and an imperative for late eighteenth century research.