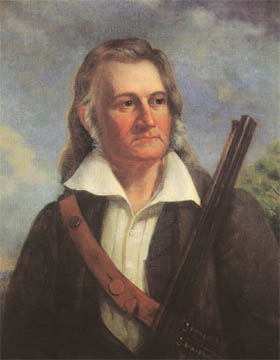 John James Audubon, perhaps the most famous of American ornithologists, is undeservedly less well known for his wonderful work depicting The Quadrupeds of North America. With the success of his Birds of America, Audubon was inspired to do the same sort of work on the animals, with the assistance of his son, John Woodhouse Audubon. This resulted in the publication of the folio edition of The Viviparous Quadrupedsof North America, illustrating 150 species. As with the work on ornithology, this volume was later issued in octavo size, making it accessible to the general public.
John James Audubon (1785-1851)
Audubon was born in Haiti, the illegitimate son of a successful merchant, planter, and slave dealer. He was taken to France at the age of four and educated among the well-to-do. At 15 he was drawing French birds, and at 17 studied drawing with the famous Neo-classical artist, Jacques Louis David, in Paris. In 1803, Audubon was in Pennsylvania managing his father's estate where he began his ventures into ornithology. In 1820, he made his goal the publication of an anthology of life drawings. He traveled the Ohio and Mississippi Rivers and the Great Lakes, exploring for birds. Unable to find a publisher in America he traveled to London in 1826-27 where William Lizars and Robert Havell, Jr. were his engravers. In 1831, Audubon returned to the United States. In 1843, Audubon took the steamer, Omega, from St. Louis up the Missouri River to Fort Union and then overland to the Yellowstone River, making stops in Nebraska in May of 1843 and again in October on his return trip downstream. Along the way, he saw birds and animals where Catlin had seen Indians. Audubon had already become well known for his Birds of America when he came to Nebraska on this 1843 trip. His new dream, though, was to do a series on American mammals. The purpose of the trip was to gather specimens for painting but his journals do not specifically record any subjects he saw in Nebraska except for once mentioning his amazement at a jack rabbit. He returned to St. Louis in Indian hunting dress with live deer, badgers, and foxes. He completed the Quadrupeds of North America in 1845 with the help of his sons, John W. and Victor.
Audubon octavo prints are hand-colored stone lithographs taken from one of the octavo-sized editions of Audubon's work. These books are about the size of a modern hardcover novel, but the plates vary slightly in size from set to set. The octavo editions of The Quadrupeds of North America were produced by Audubon's sons, John Woodhouse Audubon (the artist responsible for about half the animal images in the series) and Victor Gifford Audubon (who provided many of the beautiful backgrounds). Virtually all plates from all editions include a printed background (called a tint). Usually beige or aqua, the tint usually includes an indication of clouds. Other than this printed background, all prints are entirely hand-colored.
Unlike the octavo bird first edition prints, there is no way to identify edition with certainty once a print is separated from the volume in which it was bound. Most dealers therefore offer octavo quadruped prints without naming the specific edition.