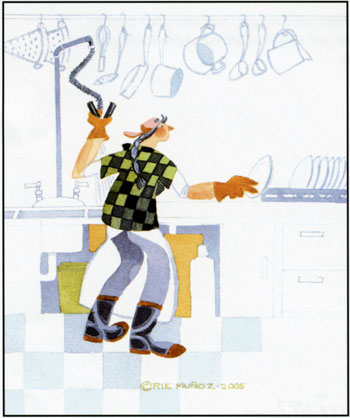 Cannery Dish Washer (2007)
edition size: 450
Image Size: 6½ x 7¾ inches

"I was in Pelican recently. While sketching the cannery kitchen I noticed this unique rinsing apparatus. this was too good to pass up along with the pots and pans and general clutter. At first the cannery workers thought I was a health inspector with my sketch book in hand and serious demeanor. They all relaxed and went back to work when I told them I was just an artist."
$75
(plus shipping/insurance)
Genuine signed, limited edition silkscreens and full color prints from celebrated Alaskan artist Rie Munoz.
Darvill's Rare Prints has an extensive collection of both recent and earlier hard-to-find editions.
If you do not see a print you are looking for, please email us, as we may be able to find it for you. We have many contacts with other official dealers of the art of Rie Muñoz.