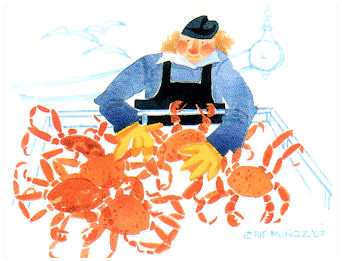 Checking for Soft Shells (2008)

Image: 8 5/8" x 6 5/8"

edition of 500
While in Tenakee a few years ago I was invited to go aboard a fishing boat to pull up a couple of King Crab pots. We got a nice haul and our friend started checking for soft shells. Every year, usually spring, crabs molt their shells being replaced by a larger one. During the molting process there is only half the meat and the crabs are put back in to the sea. We were lucky and none of this delicious catch were molting.

Sorry, we sold our last one. Contact us if you would like us to try to find one for you.
Genuine signed, limited edition silkscreens and full color prints from celebrated Alaskan artist Rie Munoz.
Darvill's Rare Prints has an extensive collection of both recent and earlier hard-to-find editions.