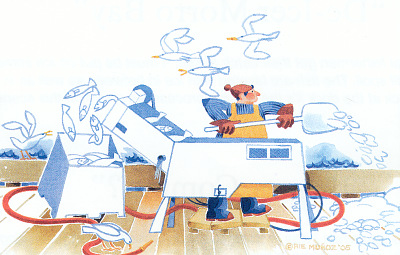 De-Icer Morro Bay (2007)
14 1/2" x 9"
500 edition
"De-Icer Morro Bay"

"When commercial fishermen get their catch at sea, it must be put on ice immediately or the fish will spoil. The fish are layered with ice in between as well as in the bellies. Back at the dock it's the reverse process, as shown in this scene."


$125
(plus shipping/insurance)
Genuine signed, limited edition silkscreens and full color prints from celebrated Alaskan artist Rie Munoz.
Darvill's Rare Prints has an extensive collection of both recent and earlier hard-to-find editions.
If you do not see a print you are looking for, please email us, as we may be able to find it for you. We have many contacts with other official dealers of the art of Rie Muñoz.