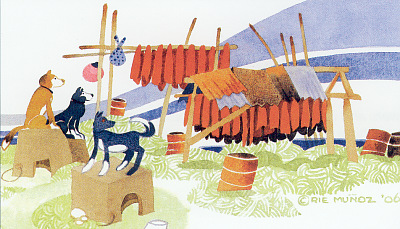 Dinner Coming? (2007)
11 1/2" x 6 3/4"
500 edition


"Dinner Coming?"

"Many years ago when I was in Kotzebue, I sketched these dogs waiting for dinner. They instinctively know, or their stomach tells them, when the time approaches.
Most sled dogs are a little bored in the summer, tied to their doghouse on a short lead. They get some exercise when the owner hooks them on a four wheeler to pull around. The real fun starts when the winter snow arrives and they get to run, run, run.
The salmon seen hanging in many of my paintings is used for the dog's food, mixed with water, leftovers and dried food. The combination makes a delicious gruel."

Sorry, we sold our last one!
Genuine signed, limited edition silkscreens and full color prints from celebrated Alaskan artist Rie Munoz.
Darvill's Rare Prints has an extensive collection of both recent and earlier hard-to-find editions.
If you do not see a print you are looking for, please email us, as we may be able to find it for you. We have many contacts with other official dealers of the art of Rie Muñoz.