Daniel Rabel
Theatrum Florae
France (1627)
Original hand-coloured engraving over 385 years old.
Sheet size: approx. 10¾ x 15 inches.
17th century France saw the establishment of a tradition of royal patronage for gardening and flower painting that extended for 200 years. Daniel Rabel (1579-1637) gained fame as court painter to Henri VI. In his own day, he was well known for his designs for ballet, his portraiture, and landscape painting. His botanical work survives in an album, Theatrum Florae, that is now in the Bibliotechque Nationale in Paris and has been described as "one of the early miracles of flower painting."
[The Art of Botanical Illustration, Martyn Rix]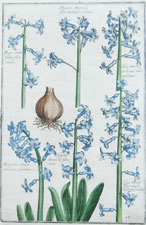 Pl. 27
Hyacinths
Condition: Very Good/Excellent
Notes: uneven trimming, but very ample for matting/framing purposes; original ink smudge in left border; a couple of fox marks outside of image area; slightly grubby lower margin outside of image; unobtrusive edge/corner wear.

(please click image above for larger view—
digital watermark does not appear on actual engraving)