---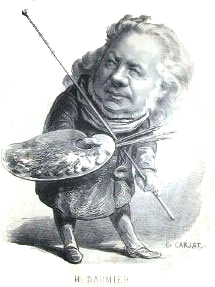 Caricature of Honoré Daumier
by Carjat.
Honoré Daumier
(February 26, 1808 – February 10, 1879),
was a French printmaker, caricaturist, painter, and sculptor, whose many works offer commentary on social and political life in France in the 19th century. A prolific draftsman who produced over 4000 lithographs, he was perhaps best known for his caricatures of political figures and satires on the behavior of his countrymen, although posthumously the value of his painting has also been recognized.
[wikipedia.com]
---
Honoré Daumier's
Les Gens de Justice
The prints below are from Law and Justice, Les Gens de Justice
printed in France in 1959 with an introduction by Julien Cain.
Published by Tudor Publishing Co., New York.
The plates are 50-year-old reproductions of Daumier's famous 19th century lithographs from the "Les Gens de Justice" series.

Sheet size is approximately 9 3/8 x 12 1/8 inches. Blank verso.

(Please note: the sheet is too large to scan entirely,
thus the margins may appear smaller than actuality.)
Great inexpensive, easy-to-frame, prints for the law office!