Background:
Dickens worked in close collaboration with his illustrators, supplying them with an overall summary of the work at the outset for the cover illustration which was printed on heavy colored stock, usually green, which served as a wrapper for each of the monthly parts. Dickens briefed the illustrator on plans for each month's installment so that work on the two illustrations could begin before he wrote them.
This close working relationship with his illustrators is important to readers of Dickens today. The illustrations give us a glimpse of the characters as Dickens described them to the illustrator and approved when the drawing was finished. Film makers still use the illustrations as a basis for characterization, costume, and set design in the dramatization of Dickens' works.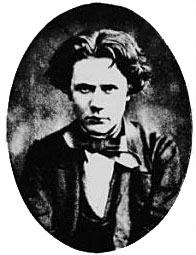 Marcus Stone
(artist unknown, 1856)
Marcus Stone was the son of Frank Stone, an established artist and long-time friend of Dickens. When Frank Stone died in 1859, leaving the 19-year-old Marcus to make his own way in the world, Dickens took a paternal interest in him and commissioned him to do work for his novels. Marcus Stone illustrated the Library Edition of Great Expectations for Chapman and Hall in 1862, and then went on to replace Phiz as the illustrator for Dickens's next monthly-number serial, Our Mutual Friend.
Stone's designs, as critic Harry Stone (no relation) has written, were submitted to Dickens for criticism. Dickens made suggestions covering everything from lettering, balance, and proportion, to gesture, physiognomy, and characterization. "The doll's dressmaker," Dickens wrote Marcus,"is immensely better than she was. I think she should now come extremely well. A weird sharpness not without beauty is the thing I want" (23 February 1864).
Stone's illustrations for Our Mutual Friend were printed from woodcuts—a departure from the usual steel engravings by Phiz. His novel illustrations (he also illustrated Trollope's He Knew He Was Right), have been widely looked upon as banal and uninspired, and indeed his illustrations for Our Mutual Friend have received harsh criticism since the first reviews appeared. (See the London Reviews.) A side-by-side comparison between Stone's dark, busy, and at times overbearing style, and Phiz's more delicate depictions will immediately demonstrate why. It is—unfortunately for Stone —Phiz's delightful and sunny Micawber who is engraved (literally) in the mind of the Dickens-lover, and not Stone's Boffin or Bird of Prey.
[Source: dickens.ucsc.edu.]