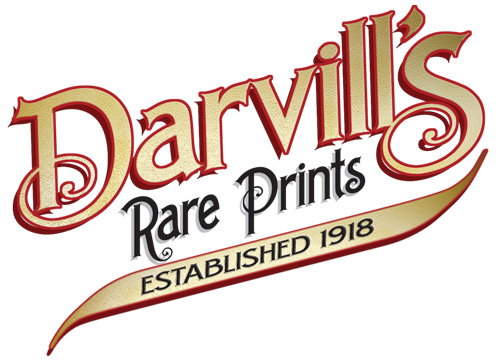 NEW WEBSITE COMING SOON!
Sign up for our email list! We will email you a Special Discount Code for your next purchase.

Edited by T. Romford, Published by "The Studio" Limited of London,
Printed in Great Britain by Herbert Reiach, Ltd., Eyot Works, Eyot Gardens, London (1927).
[curious contradiction—"Printed in Paris" is seen on the prints]
The sheet size of these beautiful prints is approx. 15 inches wide by 11 1/2 inches high.
(Image area varies by image, but is approximately 11 x 7 3/4 inches.)
Printed using a technique called "Blackmore Tintex Printing"— a "new method unique in the history of colour printing." (excerpt from frontispiece). This method was an early form of offset lithography which produced a good quality print similar in effect to a regular hand-colored stone lithograph.
Please Note: the paper is whiter than appears in the photographs below. Condition is generally very good to excellent, with only occasional rumpling or light smudges in margins only.