"Fashion for Men"
published in San Francisco
(Fall and Winter edition 1914-1915)

early offset lithograph/full color letterpress 100 years old

Sheet size: approx. 13½ x 18½ inches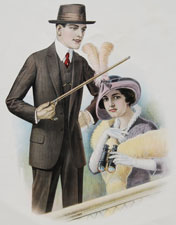 Two-Button Soft Roll Sack

$50
(Plus shipping, which may be slightly higher for this large print.
Please email for a quote, or check your email for additional shipping details after checkout. )

CONDITION ISSUES: There is a soft crease in the lower left corner; very light foxing and unobtrusive rumpling to paper. Please click on thumbnail for enlargement.