---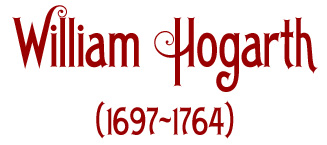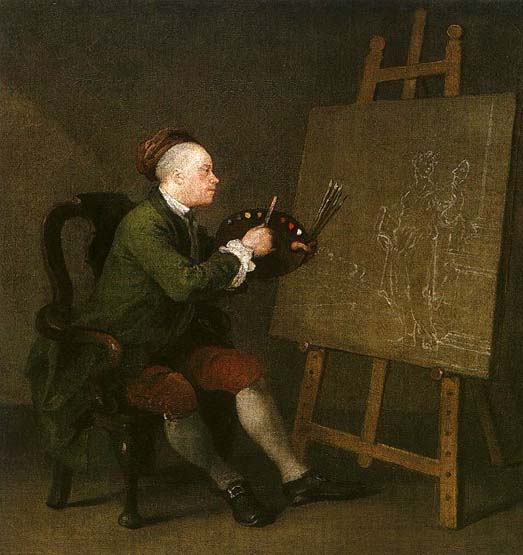 ---
Darvill's Rare Prints has an extensive collection of original William Hogarth engravings. These engravings are principally from "The Works of William Hogarth" as published by Baldwin, Cradock and Joy in 1822 with the original plates restored by James Heath, engraver to His Majesty.

The Heath edition was the last to print directly from Hogarth's original engraved plates. All 'Hogarth' prints appearing after this date are merely copies of these original graphic works of art.

We also have a large selection of Thomas Cook engravings after William Hogarth's paintings.

These engravings were executed and published by Cook between 1796-1803. They are the same size as Hogarth's original engravings, but are not from Hogarth's plates. Thus, they are earlier engravings than the Heath edition, but they are Cook's interpretation of Hogarth's works.

We do have several 18th century Hogarth prints that are not from either Heath or Cook, but most likely are original engravings published by Hogarth himself during his lifetime, or shortly after his death.

Darvill's Rare Prints has been selling fine antique prints since 1918.
We only sell original antique engravings and etchings. We never sell modern reproductions of any kind.
---

Genuine, original William Hogarth engravings and etchings from Darvill's Rare Prints
Legend:

COOK (1796-1803)
LAURIE/WHITTLE (1797)
HEATH (1822)
MACKENZIE (1870)
OTHER
CLICK ON THE TITLE OF THE PRINT FOR AVAILABILITY AND TO PURCHASE

William Hogarth was an English painter and printmaker who poignantly commented the English society of the eighteenth century with biting satire. The career and life of Hogarth were as unusual as his prints.

William was born as the son of a shopkeeper (his mother) and a schoolmaster and publisher. The youth of William was overshadowed by the chronic financial problems of his father, who was even imprisoned because of his debts. This humiliating experience formed Hogarth for the rest of his life.

Hogarth started an apprenticeship as a silversmith in 1714, but never finished it. He then tried his luck as an independent engraver for copper plates. His early commissions were for cards, book illustrations and single prints. In 1720, he registered at the John Vanderbank Art Academy. Around 1726 or earlier, he was taught painting by James Thornhill whose daughter he later married. He earned some reputation for theater decoration paintings.

Hogarth experienced his first big financial success with A Harlot's Progress, a series of paintings from which he produced engravings in 1732. Only the engravings survived. The paintings were lost in a fire in 1755.

A Harlot's Progress is a set of 6 prints about the hapless life of a prostitute. It was a completely new kind of genre prints that were referred as moral history subjects.

After the big success of A Harlot's Progress, Hogarth published a male counterpart series, A Rake's Progress - a story in eight plates showing the decline of a promising young man into a life of drinking and immoral behavior.

In 1743, the painting series Marriage à la Mode was completed. It is considered his masterpiece. In Marriage à la Mode Hogarth turned his satire on the follies of the upper classes. The theme of this series is about marriage for money. Although the prints of Marriage à la Mode sold well, the paintings did not. Therefore all prints designed afterwards, were created exclusively as print designs without any painted counterparts.

In 1747 followed the series Industry and Idleness, a moral story of an idle and an industrious apprentice in twelve plates.

In 1753 Hogarth wrote his book The Analysis of Beauty, a wrap-up of his artistic and esthetic principles.

Hogarth was a very controversial and individual character. Driven by a sense for justice, he missed no chance to get into a quarrel with his contemporaries. His most hated enemy was the British politician John Wilkes, whom he had ridiculed in one of his engravings. William Hogarth died on October 26, 1764.

PLATE #

TITLE
(click on link for more info and to purchase)

EDITION

1

COOK, HEATH, OTHER

2

HEATH, MACKENZIE

3-8

HEATH, MACKENZIE

9

COOK, HEATH, MACKENZIE

10

HEATH, MACKENZIE

11

HEATH, MACKENZIE

12-18

COOK, HEATH, LAURIE/WHITTLE, MACKENZIE

19

HEATH

20

HEATH, COOK, MACKENZIE

21

COOK, HEATH, MACKENZIE, OTHER

22

HEATH, OTHER, MACKENZIE

23

HEATH

24

COOK, HEATH, LAURIE/WHITTLE, MACKENZIE

25

HEATH, LAURIE/WHITTLE, MACKENZIE

26

HEATH, COOK, MACKENZIE

27

HEATH

28

HEATH, MACKENZIE

29-36

A Rake's Progress (8 plates)

LIFETIME HOGARTH,
COOK, HEATH, MACKENZIE

37

COOK, HEATH, MACKENZIE

38

COOK, HEATH, MACKENZIE

39

HEATH, COOK, LAURIE/WHITTLE, MACKENZIE

40

LAURIE/WHITTLE, HEATH

41

COOK, HEATH, OTHER

42

HEATH, MACKENZIE

43

HEATH, MACKENZIE

43[A]

MACKENZIE

43[B]

MACKENZIE

44

HEATH, MACKENZIE

45
46
47
48

HEATH, COOK

49

HEATH

50

COOK, HEATH, MACKENZIE

51

HEATH

52

HEATH, MACKENZIE

53

COOK, HEATH, LAURIE/WHITTLE, MACKENZIE

54-59

HEATH, MACKENZIE

60

HEATH, MACKENZIE

60 [A]

LAURIE/WHITTLE

61

COOK, HEATH, HOGARTH/LAURIE, MACKENZIE

62-68

COOK, HEATH, LAURIE/WHITTLE, MACKENZIE, OTHER

69

COOK, HEATH , LAURIE/WHITTLE, MACKENZIE

70

COOK, HEATH, MACKENZIE

71

HEATH, LAURIE/WHITTLE, MACKENZIE

72
73
74-77

The Second Stage of Cruelty

Cruelty in Perfection

The Reward of Cruelty

HEATH, MACKENZIE

78

COOK, HEATH, LAURIE/WHITTLE, MACKENZIE

79

HEATH, MACKENZIE

80

HEATH, LAURIE/WHITTLE

81

HEATH, LAURIE/WHITTLE, MACKENZIE

82

HEATH, MACKENZIE

83,84

COOK, HEATH, MACKENZIE

85-88

COOK, HEATH, MACKENZIE, OTHER

89

HEATH, MACKENZIE

90-91

COOK, HEATH, MACKENZIE

90

COOK, HEATH, MACKENZIE

91

COOK, HEATH, MACKENZIE, OTHER

92

HEATH, LAURIE/WHITTLE, MACKENZIE

92B

COOK, HEATH, LAURIE/WHITTLE, MACKENZIE

93

HEATH, MACKENZIE

94-96

HEATH, MACKENZIE

97

HEATH, MACKENZIE

98

COOK, HEATH, MACKENZIE

99

COOK, HEATH, MACKENZIE

100

HEATH, MACKENZIE

101

HEATH, LAURIE/WHITTLE, MACKENZIE

102

COOK, HEATH, MACKENZIE

103

COOK, HEATH, MACKENZIE

104

COOK, HEATH, MACKENZIE

105

HEATH, MACKENZIE

106

HEATH, MACKENZIE

107

HEATH

108

HEATH, JANE HOGARTH (1775)

109

HEATH, MACKENZIE

110

HEATH, MACKENZIE

111

HEATH, MACKENZIE

111[A]

MACKENZIE

111[B]

MACKENZIE

112

HEATH

113

HEATH, MACKENZIE

114

HEATH

114[A]

HEATH

115

HEATH, LAURIE/WHITTLE, MACKENZIE

115[A]

MACKENZIE

115[B]

MACKENZIE

115[C]

MACKENZIE

115[D]

MACKENZIE

116

FINIS – The Bathos

(Tail Piece / The Bathos, or Manner of Sinking, in Sublime Paintings, inscribed to the Dealers in Dark Pictures

(Hogarth's last graphic work)

COOK, HEATH, LAURIE/WHITTLE, MACKENZIE

N/A

OTHER (Wheatley)