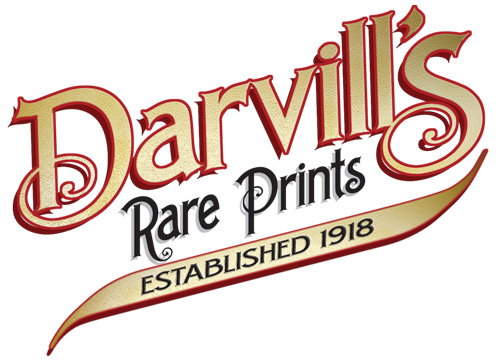 Since Adirondack Retro acquired Darvill's Rare Prints in August of 2022, we have been working tirelessly on our New State-Of-The Art Website. We are excited to announce that it is now up and running and that our massive inventory of Antique Prints and Rare Maps are being transferred over to the new site daily. In addition to the nearly 500,000 prints found on www.DarvillsRarePrints.com, Adirondack Retro offers an eclectic selection of Antique and Vintage Advertisements along with their Limited Edition Giclee Prints. During this transition, customers will still be able to shop and make purchases on www.DarvillsRarePrints.com.
---

Original, hand-coloured lithographs from circa 1860-1890.
"Imagerie d'Epinal Album d' Images" by various French artists.
Printed and hand coloured in France expressly for the Humoristic Publishing Company of Kansas City, Missouri by Jean-Charles Pellerin's Imagerie d'Epinal printing house, which was founded in 1796.
These historically-important graphics presage the format used by Hal Foster in his Prince Valiant strips by some fifty years, and are clear forerunners of the modern day comic book.

Sheet size: 11.75 x 15.75 inches, lithographed on thin broadsheet paper, blank verso
Note: the paper appears somewhat darker in the scans than in reality.
SOME TYPICAL AGE-TONING TO BE EXPECTED, AS WELL AS MINOR EDGE/CORNER WEAR AND SHORT TEARS. PLEASE REFER TO ENLARGEMENTS BY CLICKING ON THUMBNAIL IMAGES PROVIDED.