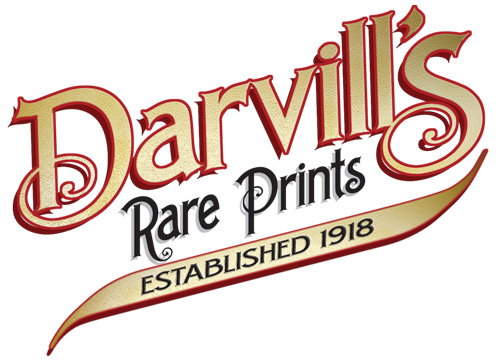 Since Adirondack Retro acquired Darvill's Rare Prints in August of 2022, we have been working tirelessly on our New State-Of-The Art Website. We are excited to announce that it is now up and running and that our massive inventory of Antique Prints and Rare Maps are being transferred over to the new site daily. In addition to the nearly 500,000 prints found on www.DarvillsRarePrints.com, Adirondack Retro offers an eclectic selection of Antique and Vintage Advertisements along with their Limited Edition Giclee Prints. During this transition, customers will still be able to shop and make purchases on www.DarvillsRarePrints.com.
---
Picturesque Views of Seats of Noblemen and Gentlemen of Great Britain and Ireland
by Rev. F. O. Morris

Published in London by William Mackenzie in 1880 • B. Fawcett, Engraver and Printer, Driffield

Original 140+-year-old Wood Block prints in colour • Sheet size: approx. 8.25 x 10.75 inches
The straightforward but thoroughly attractive plates were drawn by Alexander Francis Lydon (1836-1917) and printed from colored woodblocks by the Baxter process by Benjamin Fawcett (1808-1893) of Driffield, Yorkshire. The brisk but informative text was prepared by Rev. F. O. Morris (1810-1893), Fawcett's friend and neighbor and collaborator on many color-illustrated works of natural history. The many plates in this set are notable for their precise printing and rich coloring; each plate was printed in an average of eight colors. Ruari McLean states that in this work "the best [plates] are of great charm and beauty; and the color printing is, as usual, superb." Friedman says of Fawcett's coloring" his ink tones are so subtle and transparent that they have the appearance of watercolor...Fawcett's transparent colors were especially suited to Lydon's crisply-drawn renderings of immaculately tidy grounds bathed in sunlight and with gardens abloom."
(CLICK ON THUMBNAILS FOR ENLARGED VIEW)