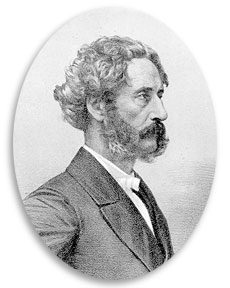 Rev. Francis Orpen Morris
(1810-1893)
T
he inspiration for Francis Orpen Morris' A History of British Birds actually came from the renowned English printer, Benjamion Fawcett, who approached Morris to write the text when Morris became Vicar of Nafferton. Morris had a reputation as a popular writer on natural history in general and birds in particular. His first book had appeared as early as 1834, a guide to an arrangement of British birds. However, his association with Benjamin Fawcett was to have remarkable results, particularly for the study of ornithology.
A History of British Birds was entirely printed and bound in the small North Country village of Driffield, Fawcett's residence and shop, and shipped in tea chests to London. It was a resounding success.
Work on A History of British Birds probably began in 1848. Publication, which took over seven years to complete from June 1850, was undertaken in monthly parts costing one shilling. Each part contained 24 pages of letterpress and 4 hand-coloured plates. The final six volume work contained 358 coloured plates. One thousand copies of the first part were initially produced, but such was the demand that Fawcett quickly had to move into larger premises.
Alexander Francis Lydon was one of Fawcett's principal engravers, contributing much in technique and design A team of women colourists under very strict scrutiny first from Fawcett then his wife (a former colourist herself) hand coloured each plate.
Morris became an early advocate for conservation and was instrumental in founding the Royal Society for the Protection of Birds.

References include Fine Bird Books, p125 & Benjamin Fawcett, p 77.
Various Editions a History of British Birds were published from circa 1851 to circa 1903.
All were published with the hand-colouring of the time.