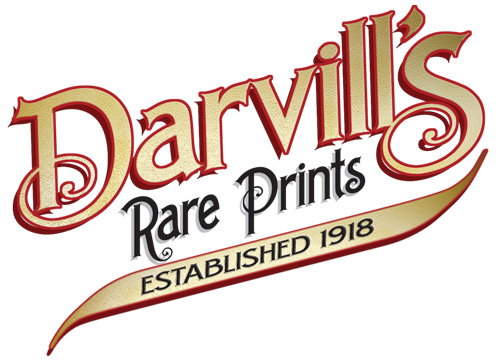 Since Adirondack Retro acquired Darvill's Rare Prints in August of 2022, we have been working tirelessly on our New State-Of-The Art Website. We are excited to announce that it is now up and running and that our massive inventory of Antique Prints and Rare Maps are being transferred over to the new site daily. In addition to the nearly 500,000 prints found on www.DarvillsRarePrints.com, Adirondack Retro offers an eclectic selection of Antique and Vintage Advertisements along with their Limited Edition Giclee Prints. During this transition, customers will still be able to shop and make purchases on www.DarvillsRarePrints.com.
---
The Portraits of the Most Eminent Painters, and other Famous Artists,
That have flourished in Europe. Curiously Engraven
on above One Hundred Copper Plates.
By F. Bouttats, P. De Jode, Senior, P. De Jode, Junior,
W. Hollar, P. Pontius, J. Vorsterman, C. Waumans, &c.
From Original Paintings by Anthony Van Dyck, Cornelius Janssesns,
Guide Rheni, David Teniers, and other celebrated Masters.
With An Account of their Lives, Characters, and most considerable Works.
(London: Printed for, and sold by Joseph Duke, at Virgil's Head,
the Back of the Royal-Exchange, next the Bank, 1739)

Original Copperplate Engravings over 280 years old
on chain-laid paper with crest/fleur-de-lis watermark
Sheet size: approx. 9 x 11 1/2 inches

NOTE: THE PAPER, WHICH IS OVER 270 YEARS OLD, IS IN GENERALLY EXCELLENT CONDITION. THERE MAY BE SOME SIGNS OF AGE SUCH AS SLIGHT WAVINESS AND TINY FOX MARKS. PLEASE HAVE A LOOK AT THE PROVIDED ENLARGEMENTS TO ASSESS THE CONDITION OF EACH PRINT. BIRTH/DEATH DATES MAY HAVE BEEN NOTATED IN PENCIL—EASILY ERASED.