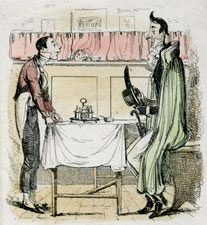 Scenes in London, No. 26
Waiter, what have you got today?
Haunch of Venison Sir. Boiled Turkey, Roast Veal and Ham, Roast Pork, Boiled Fowls, Roast & Boiled Beef
What Vegetables?
Asparagus, Sea Kale, Brocoli, French Beans, Greens, & Potatoes
Oh, then I'll take a Small plate of boiled Beef and a Potato!