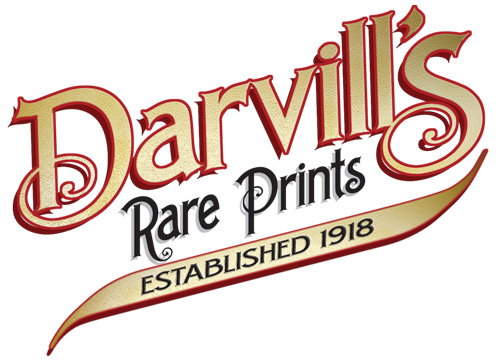 Since Adirondack Retro acquired Darvill's Rare Prints in August of 2022, we have been working tirelessly on our New State-Of-The Art Website. We are excited to announce that it is now up and running and that our massive inventory of Antique Prints and Rare Maps are being transferred over to the new site daily. In addition to the nearly 500,000 prints found on www.DarvillsRarePrints.com, Adirondack Retro offers an eclectic selection of Antique and Vintage Advertisements along with their Limited Edition Giclee Prints. During this transition, customers will still be able to shop and make purchases on www.DarvillsRarePrints.com.
---
The Art Treasures of England
The Master-Pieces of the Best English, Irish and Scottish Painters and Sculptors
Represented by over One Hundred Fine Steel Engravings with Biographical and Descriptive Text
Edited by J. Vernon Whittaker
Philadelphia, Gebbie & Barrie, Publishers, 1876
Original steel engravings over 145 years old

(Chine collé method: Chine refers to thin tissue paper, traditionally imported from China, Japan and India.
Collé refers to the glue or paste used to attach this thin tissue to heavier Western-made plate paper.
The smooth surface of the Oriental tissue papers accepts finer printing detail than the more coarsely textured plate papers.
Tissue papers are, however, quite weak. Pasting them to thicker paper gives them strength and stability.)
Sheet size: approximately 13 x 18 inches (approx. 32 x 46 cm).
Image size varies (noted below thumbnail image)

Please click on a thumbnail for a view of the entire plate.