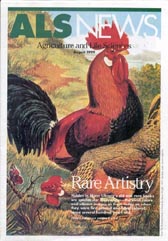 The ILLUSTRATED BOOK OF POULTRY is often featured as a rare collectable in articles on antiquarian books. One of the lithographs was featured on the cover of a Cornell University magazine (August 1999). The article describes the books in the Universities Rare Book Collection.
(See scan of cover above).
Comprehensive series of 50 prints of prize British roosters and hens, and other fowl from what is perhaps the most famous 19th-century illustrated book on the subject, with fine chromolithographs after illustrations by J. W. Ludlow. Each bird is sensitively portrayed in a natural farm or henhouse setting, imbued with its own personality and temperament that seems to correspond to its appearance. Some prints show a single bird, others show two, either the more showy males, or a pair of male and female. The titles of the prints specify name of breed and prizes. Some also specify owner or name of the bird. For example, Mr. R.B. Wood's pair of Creve-Coeurs won "1st prizes at Wolverhampton Birmingham (Summer Show) Spalding & Chesterfield, 1872," and Mr. Tomlinson's Buff Cochcin Cock 'Sampson' was "winner of the Birmingham Cup in 1860 and 1861." The book was reprinted several times between 1880 and 1911. The Illustrated Book of Poultry was part of the natural history series published by Cassell and Company in England in the latter half of the 1800s.

J.W. Ludlow was an ornithological artist who apparently specialized in domestic birds. He illustrated several books published by Cassell and others between 1867 and 1886 on poultry and pigeons. His poultry illustrations are considered classics and are widely reproduced in posters today.

Lewis Wright was a Victorian-era author, editor and poultry, pigeon and animal expert. He played a major part in documenting old and rare breeds of poultry and recording their histories. Wright was the subject of the 2001 book Lewis Wright and His Poultry by Joseph Batty (London: Northbrook Publishing).