"The Works of James Gillray from the Original Plates with the Addition of Many Subjects Not Before Collected"

(1847-1851)
published by Henry G. Bohn, London written by Charles Whiting
Original Copperplate Etchings/Engravings over 170 years old

Full Sheet Size: approx. 19 x 24¾ inches
Half Sheet Size: approx. 9½ x 12¼ inches
(trimmed from full sheet)

Image Size: varies from engraving to engraving (note: most, but not all, plates have engravings on both sides of the sheet, as published by Bohn.)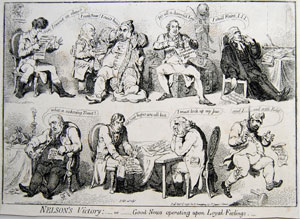 (click image for view of entire plate)
Nelson's Victory: or, Good News operating upon Loyal Feelings

(Side 1)
Sheet size: 16 3/8 x 11 1/2 inches
(trimmed from full sheet)
Condition
Good/Very Good: typical browning of extreme edges of paper; scattered light foxing;
narrow bottom margin as the print was trimmed down from a full sheet.
NOTE: This print is not from the 1847-1851 Bohn edition (it has no plate number) but IS printed on both sides, so is not an earlier lifetime print. Some sources would put this at around 1830 from the McLean edition of Gillray prints. Another possibility is that Bohn printed this without numbering to have hand-coloured and sold individually.