(excerpts from In 'Vanity Fair'
by Roy T. Matthews and Peter Mellini)
This book is widely regarded as the authoritative source of information about Vanity Fair magazine. We highly recommend it for your further edification. Many public libraries contain the volume. Sadly, it is now out of print and getting difficult to obtain a copy for purchase. We may have one available for purchase — please call or email if interested.
---
Why "Spy"?
The Vanity Fair caricatures have become widely know as "Spy" prints due to the 1325 caricatures drawn by Sir Leslie Ward, who was a fixture at Vanity Fair for over 40 years. Ward and editor Bowles picked the name "Spy" from the dictionary to become Ward's nom de crayon. Many also cite Ward's propensity for methodical study of his 'victims' for many hours before beginning preliminary sketches as the real reason the name "Spy" stuck.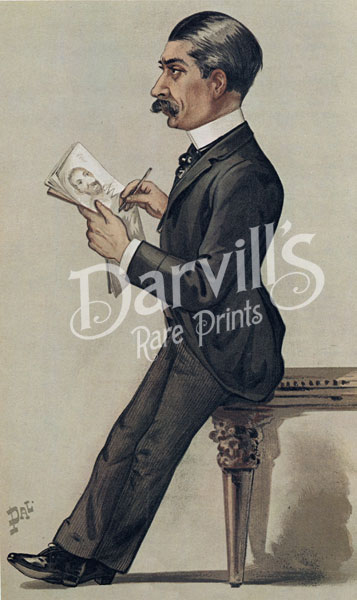 'Spy': Leslie Ward, by PAL, 1889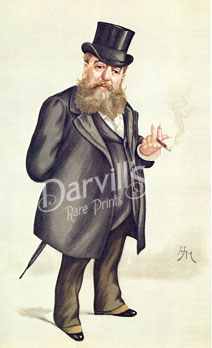 'Ape': Carlo Pellegrini, by AJM, 1889
Carlo Pellegrini ("Ape") also did caricatures for the magazine for over 20 years (approx. 333 cartoons), so the prints might have become know as "Ape" prints were it not for Leslie Ward!