...What kind of magazine was "Vanity Fair"? It was like our "Town & Country," "New Yorker" and "Harper's Bazaar" rolled into one. The comings and goings of the royal family, great satire, news of the week, fashions of the day...all in "Vanity Fair," published each week from 1869 to 1914. The highlight of each week was a caricature of a well-known personage (in color stone-lithography).
More about the magazine.
We only sell authentic, original Vanity Fair prints - never reproductions!
The "normal" size of a Vanity Fair lithograph is about 10½ x 15½ inches. This does vary somewhat, however. The earlier years are usually smaller. Double page prints are about 21 x 15½ inches, again varying somewhat.

Our genuine Vanity Fair prints come from one of the largest collections ever amassed. Our founder, Fred T. Darvill, was an Englishman and an avid collector of Vanity Fair prints. He emigrated to the United States in the late 1800s, but had 10 brothers and sisters in England who kept him in constant supply of lithographs. By the time he died in 1976 at the venerable age of 95, the collection of Vanity Fair prints had grown to several thousands. We are still selling from this original collection and have thousands of fine original lithographs from which to choose. If you don't see the caricature you are looking for, please contact us as we may be able to locate one for you.
An assemblage of Vanity Fair 'Spy' prints or lithographs provides a fascinating pictoral history of the latter half of the nineteenth century and an authentic collection of great charm.

We hope you enjoy shopping our amazing collection.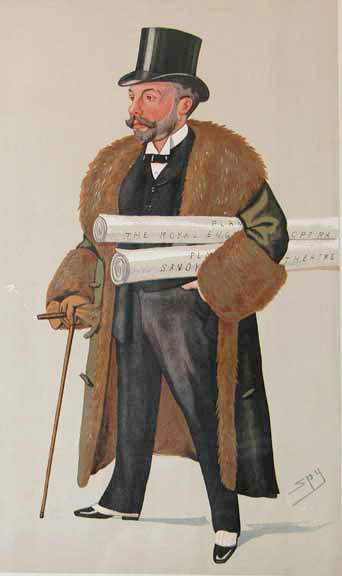 Mr. Richard D'Oyly Carte
February 14, 1891
(THEATRE)