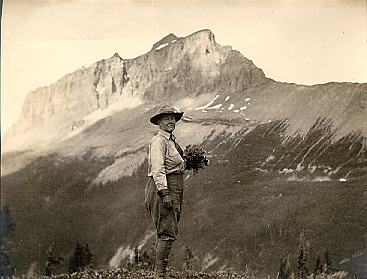 Mary Vaux Walcott collecting wild flowers in Canada, 1920s.
photo courtesy of Smithsonian Institute
During her early years, on family summer vacations to the Rockies, Mary Vaux (rhymes with fox) developed into an accomplished amateur botanist, watercolorist, and mountaineer. Her wildflower publication was to become "the Audubon of Botany," and a 10,000-ft. peak in Jasper Park was named for her. After she married Dr. Charles D. Walcott, a noted geologist and Secretary of the Smithsonian, she accompanied him on his field trips. "This afforded me a wonderful opportunity for intimate study of the flora, my aim being to collect and paint the finest specimens obtainable, and to depict the natural grace and beauty of the plant without conventional design." She typically sketched while the pack-trains were stopped or being made ready, often warming her hands first by a small fire, and then finished the beautiful watercolors once back home in the East. Because of the short and tentative season of the wildflowers, and the often inhospitable locations on mountainsides, this endeavor occupied many seasons and arduous trips.
"As time went on and the collection grew, botanists, artists, and others interested in flowers began to urge that the water-color sketches should be permanently preserved and made available for students and lovers of the beautiful in Nature, before the dust of time faded and browned them to the hues of the pressed flowers of the herbaria." The result was the publication in 1925 of these astonishing volumes containing over 400 colored lithographic prints. Indeed, they deserve to be called "the Audubon of Botany."