SIDE A
VERY GRACEFUL!!!
Commander-in-Chief—"Alltho' there have been many Campagins more, &c., &c., and without wishing in any way to disparage, &c., &c., or to lessen, &c., &c., the distance is so great, &c."—Vide H.R.H. The Duke of Cambridges Speech).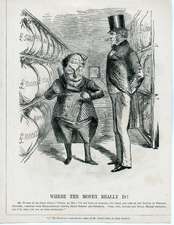 SIDE B
WHERE THE MONEY REALLY IS!
Mr. P-nch (to his friend Pam).—"There, my Boy! I'm not fond of boasting, but these are some of the Results of Untiring Industry, combined with Extraordinary Genius, Great Energy and Prudence. Come, now, reward our Indian Heroes properly, and I'll help you out of your difficulty!"