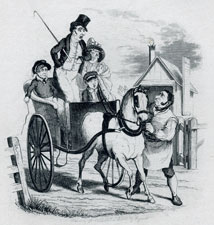 A Rigmarole. Part 1.
(A trust without trust, driver's pocket empty.)

Turnpike man: You should have gone home the way you came out, that ticket won't do here so out with your coppers, threepence.
Cockney: I doesn't think I've got any halfpence.
Turnpike man: Well, then I must give you change.
Cockney: But I'm afeard I havn't got any silver left. I say mister, cou'd'nt you trust me. I'd be werry sure to bring it to you.

$20
(same as to left, but uncolored)