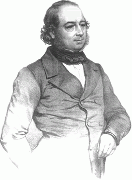 One of the great bird artists of all time, John Gould (1804-1881) created over 3,000 plates of birds in over 40 volumes. Around 1830, while working as taxidermist for the Zoological Society of London, he received a shipment of exotic bird skins from the Himalayas. Soon after, he published A Century of Birds from the Himalaya Mountains.
The success of this work, along with the Birds of Europe (1832-37) and a Monograph of the Ramphastidae [Toucans] allowed him to travel to Australia and New Guinea. Among Gould's better known works are the Birds of Australia (1849-69), the Birds of Asia (1850-83), and Birds of Great Britain (1862-73). Though Gould himself sketched most of his plates, other artists such as his wife Elizabeth, Edward Lear, Joseph Wolf, William Hart and Henry C. Richter finished them. Gould's plates are highly esteemed for their composition, accurate detail, and coloring.

These prints are original. Most are in excellent condition, some show a little age toning (which may not always be evident in the photos) and may have some minor blemishes.